Disclosure: Some posts contain affiliate links, which earn us a commission if you make a purchase through them.
Singsation Mainstage Review
With the massive success of the Singtrix Party bundle, it wasn't long before competitors entered the market, with the hope to dethrone the highly popular karaoke machine built by the makers of Guitar Hero.
The Singsation Mainstage Karaoke Machine is one company who definitely gave Singtrix a run for its money, with a pretty amazing array of hardware and features that in some areas, managed to outshine Singtrix.
It's worth mentioning that the Singsation Mainstage is also significantly cheaper.
The Singsation Mainstage is an all-in-one home karaoke machine that came with the promise of delivering both a fun and functional experience, with:
4 speakers
2 passive bass units
2 microphones
20 high-fidelity vocal effects.
A dedicated control panel with 25 colourful lighting effects.
The first thing you'll notice about the Singsation Mainstage is its design, which opts for the 'pedestal karaoke machine' design.
The main unit sits on the floor while you use the microphone stand. Why the floor? Because you can actually operate the Singstation Mainstage with foot pedals, making the experience super convenient and fun.
While it's long and tall stature is not going to win any awards for being highly portable, it's definitely a breeze to move around the house, as it's pretty lightweight.
At A Glance
A complete and all-in-one karaoke system.
Comes with two microphones.
'Pedestal style' karaoke machine.
Comes with a dedicated microphone stand with phone/tablet holder.
Powerfully robust sound and a gorgeous light show.
---
What We Loved About the Singsation Mainstage
Impressive Sound
The Singsation Mainstage comes with an impressive 40-watt amplifier along with 4 stereo speakers combined with 2 passive bass radiators (check out further specs here on Amazon).
We found the audio quality to be rather impressive.
Bass response was ample for the size of the machine, and the accuracy was tight and defined.
We tried it out at a little Summer house gathering of ours (indoors), and we found that the volume was more than capable.
Even with lots of crowd chatter, the Singsation Mainstage managed to stand on its own and not get drowned out.
Also, when turned up LOUD, it impressively manages to retain clarity and quality without breaking up or becoming distorted.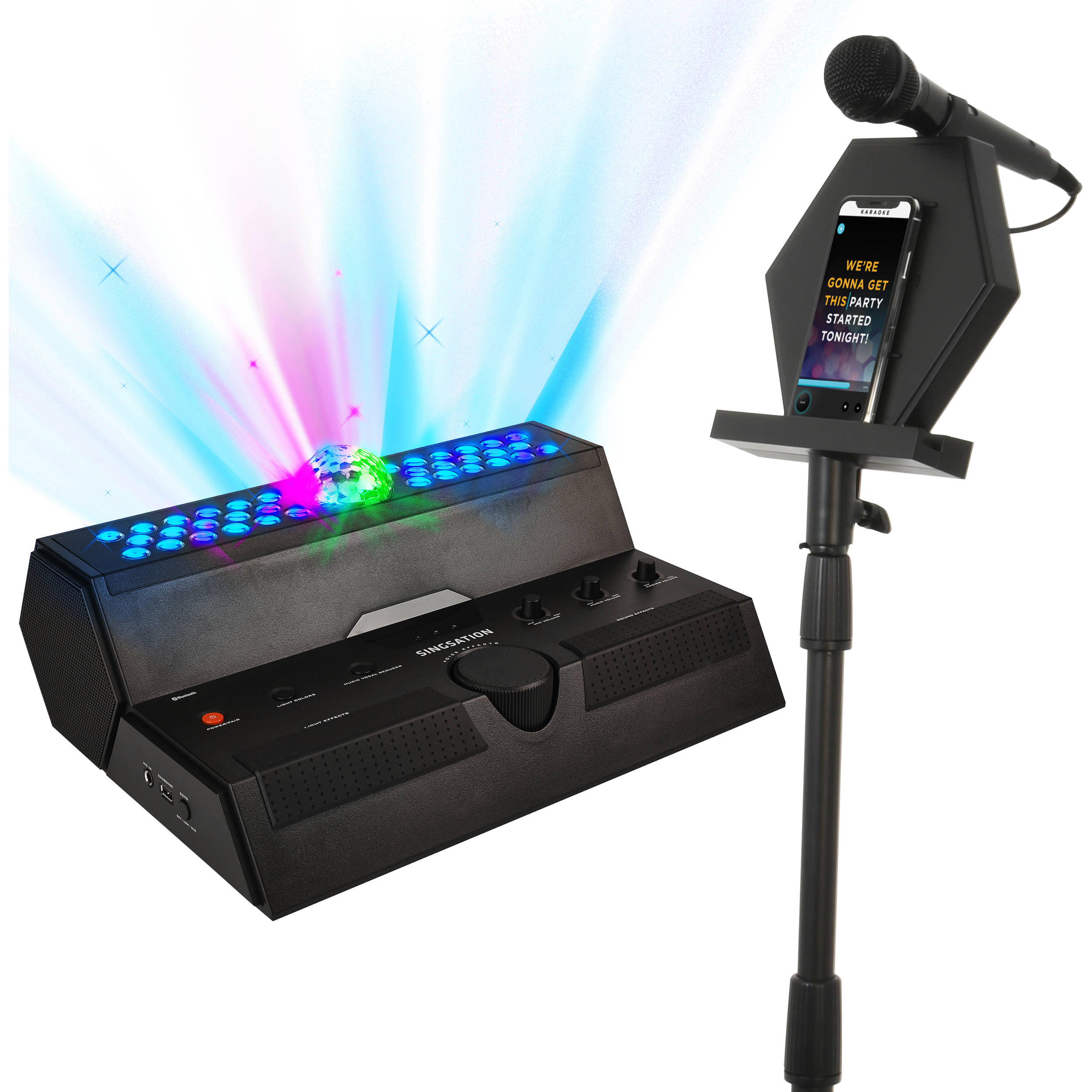 The Design
The Singstation Mainstage has a great design that puts usability first. What does that mean? Well, all of the speakers, bass units, voice and sound controls are encased in one handy unit.
You can have a completely hands free experience thanks to the foot pedals, and control sounds and lights with your feet — tons of fun!
The Singstation Mainstage also comes with a wireless remote which helps you control most of the functions wirelessly as well.
We really loved the smart device holder that is located on the microphone stand, you can easily place your smartphone or tablet on it and read lyrics from it.
The microphone stand is also adjustable — you can change the height to suit your needs or lower it so a kid can enjoy karaoke as well.
Above all, the Singstation Mainstage is a no-fuss system that enables you to truly immerse yourself in the experience, rather than worry about the controls.
Smart Connectivity
The Singstation Mainstage seamlessly connects with your smartphone and tablet, and is fully compatible with most karaoke apps.
The karaoke machine can work with streaming services and Youtube as well, via your smartphone or laptop. Say goodbye to clunky, dust collecting CDs!
And the Singsation Mainstage connects pretty seamlessly to your smart devices too. We tested it on a Samsung Galaxy S8 and an iPad Air and it worked perfectly fine on both devices without any issues. You can place the smartphone or tablet on the device cradle, and easily read the lyrics of any songs you are playing. The screen is bright enough so you don't have to squint, which is a big issue with cheaper devices.
Two Microphones
The Singsation Mainstage ships with two microphones in the package. You have no idea how many companies only send one microphone and want you to purchase an additional one.
Thankfully, the Singstation Mainstage karaoke machine sends an identical mic so your friend can join in on the phone. Duet your heart out, baby!
The Voice Effects
The Singstation Mainstage comes with 60 different voice effects including harmonization, pitch shifters and the all so annoying, chipmunk vocals.
These are a fun way to either enhance your karaoke experience or simply have some mindless fun annoying the hell out of everyone in your house.
Want to sing the Titanic title song in an alien voice? Yep, you can do that with this karaoke machine! How about Eye of The Tiger in a high pitched helium affected voice? Sure, why not.
You also get 10 cheeky sound effects with the Singsation Mainstage. Friends being rude and not praising your rendition of Billie Eilish's 'Bad Guy'? Easy — simply applaud yourself by pressing the 'applause' sound effect. Then proceed to kick them out of your house for being inconsiderate a$%h0l3s!!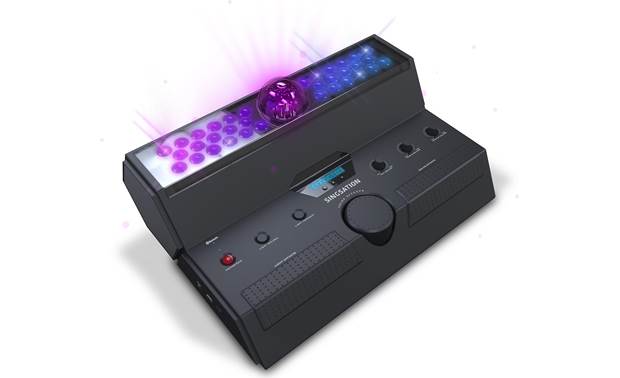 What We Didn't Like About the Singstation Mainstage
Smartphone Dependent
The Singstation Mainstage can only work if you have a smart device like a smartphone or tablet with either Bluetooth or a headphone jack. Not really a big deal when everyone and their four year old has a smartphone these days.
Not The Cheapest (But You Get What You Pay For)
Another thing is the high price of the Singstation Mainstage. It is on the pricier side, but still way cheaper than the Singtrix Family Bundle.
If you are on a lower budget and still want to get most of the features, you could check out Singsation's little brother, the Singstation All-In-One Karaoke System that is almost half the price of Singstation Mainstage. It also cuts the available features in half though.
Final Thoughts
The impressive sound quality combined with a slew of different voice effects makes Singstation Mainstage a compelling choice. Plus when you see the light effects being projected on the ceiling, you'll have to admire the Singstation Mainstage's party aesthetic.
The Singstation Mainstage home karaoke machine is a powerhouse when it comes to features. The asking price is well worth it if you aim to use the machine for a long period of time and trust me, you will love to take it for a spin at every house gathering.
Find out more about the Singsation Mainstage here on Amazon, where you can also read other customer reviews to help you make a decision.